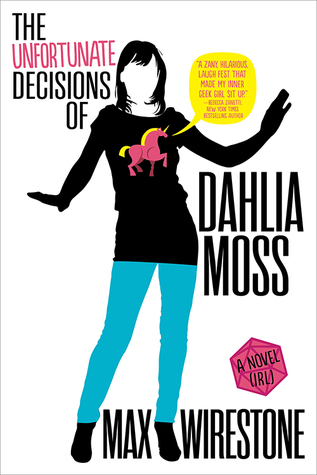 For fans of The Guild, New Girl, Scott Pilgrim, Big Bang Theory, Veronica Mars, or anyone who has ever geeked out about something.
The odds of Dahlia successfully navigating adulthood are 3,720 to 1. But never tell her the odds.
Meet Dahlia Moss, the reigning queen of unfortunate decision-making in the St. Louis area. Unemployed broke, and on her last bowl of ramen, she's not living her best life. But that's all about to change.
Before Dahlia can make her life any messier on her own she's offered a job. A job that she's woefully under-qualified for. A job that will lead her to a murder, an MMORPG, and possibly a fella (or two?).
Turns out unfortunate decisions abound, and she's just the girl to deal with them.
Buy On Amazon
My Review:
I don't know what The Guild is and wasn't blown away by New Girl, but I do like Scott Pilgrim and Big Bang theory. So when I read the blurb of this book, I requested it for review. Dahlia Moss is an unemployed woman who has a roof over her head by the grace of her very eccentric roommate. It's at one of her roommate's impromptu costume parties that she meets Long, who offers 2,000 dollars to retrieve a stolen digital item. What first seemed like an easy and ridiculous task turned into a very not ridiculous murder.
The plot itself is well crafted, and--eccentricities aside--the characters all have depth and originality. The nerd references aren't so vague that non-fanboys and girls won't have a problem following along. And while the writing didn't have me laughing out loud, it did stick in my mind when I put the book down to eat, flowed smoothly, and kept me entertained.
I also really appreciate the paper doll style of the cover. Overall: I'd get this from the library and probably get the kindle version. While I'd definitely talk about it to friends, I don't see myself getting a physical copy.