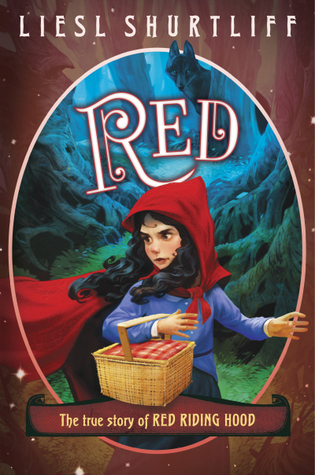 Red is not afraid of the big bad wolf. She's not afraid of anything . . . except magic.
But when Red's granny falls ill, it seems that only magic can save her, and fearless Red is forced to confront her one weakness.
With the help of a blond, porridge-sampling nuisance called Goldie, Red goes on a quest to cure Granny. Her journey takes her through dwarves' caverns to a haunted well and a beast's castle. All the while, Red and Goldie are followed by a wolf and a huntsman—two mortal enemies who seek the girls' help to defeat each other. And one of them just might have the magical solution Red is looking for. . . .
Liesl Shurtliff weaves a spellbinding tale, shining the spotlight on a beloved character from her award-winning debut,
Rump.
My Review:
The true story of Red riding hood was enjoyable, and a perfectly crafted blend of classic fairy tales with just enough twists to make it new and exciting. I particularly loved meeting beauty and the beast, and I'm excited to hint down the true story of Rumpelstiltskin by the same author. In this book, there were hints at the true story if Snow White but I guess we'll have to sit on the edge of our seats and hope for the best.
Pros: an adventure, tale of friendship, and coming of age story all in one.
Cons: the beast could have been rounded out more, but the story is about Red anyway.
Recommendation: buy.
I got this copy as a courtesy from Netgalley