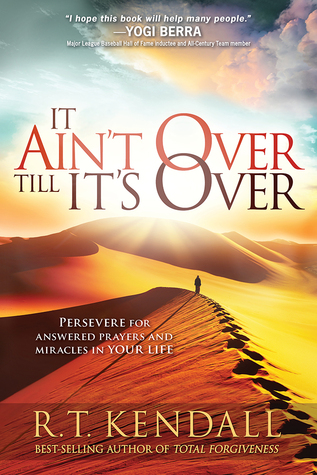 One of the greatest strategies of the enemy is to convince you to give up on your faith. If he can't succeed at that, then his objective is to persuade you to
settle for less than what God has planned for you. Don't give up when victory is just around the corner! For anyone who has ever felt like throwing in the towel, Dr. R. T. Kendall brings divine encouragement. Don't lose hope! Keep running the race. Not only can you finish, but you can also finish well. It's not over!
IT'S TIME TO STIR YOUR FAITH TO BELIEVE FOR:
Miracles that you never thought possible
Restoration for the most seemingly unmendable marriages
The return of prodigal sons and daughters
Healing of bodies, hearts and minds
Financial provision, blessing and much more!
Buy on Amazon
My Review:
I got this book for free through a FirstReads Giveaway and was encouraged, but not required to post a review.
The Good: As a person who constantly has questions about things (particularly religion and prayer), this book was very helpful. More helpful, at least, than my Sunday School teacher when I asked why we prayed the Rosary in honor of Mary when God can heal the sick and we're not supposed to pray to anyone but Him. (She said, by the way, "Because. Ask your Mother.") Kendall not only answered questions, but then brought up more questions and followed up with even more answers backed up with Scripture and anecdotes. I felt like I was learning, and loved it.
The Questionable: Kendall was not shy in name dropping his own books. That's not so much a problem but then he'd hit me with something like "The people passing by may have said a
sinner's prayer
". The Emphasis is original. Kendall wrote it like that and then just kept going without telling me what a sinner's prayer was or where to find out.
The Bad: The whole thing is written like a sermon. I understand why, and I understand that adding lines that say [to paraphrase] "Have I mentioned It ain't over Til it's Over?" When he has already mentioned it about 20 times and we're only on page 30. Repetition is a strong tool to use when speaking orally. But it doesn't translate well for the same reason some people have trouble reading the bible: It's meant to be heard, not read. It got annoying after a while.
Overall: A great book, if you can get past reading the title over and over and over again.