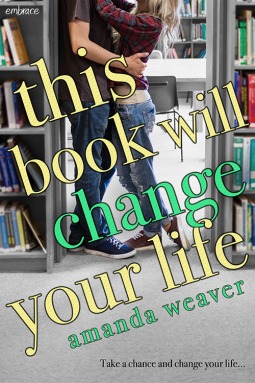 Take a chance and change your life…
College was supposed to be where Hannah's hard work paid off, but the major in honors chemistry she's been working towards since childhood is slipping away. Worse, she's not sure she wants it anymore. Salvation comes from an unlikely place—a used bookstore and Ben, the passionate college senior who works there.
Ben's trapped in a life mapped out for him. Trapped in a future career as a lawyer to make his father happy. Trapped pursuing a girl he doesn't even like because she fits into a world he doesn't want, but can't escape. But then he meets Hannah. And for the first time, he knows what it means to truly want something.
So he gives in to being her friend. Then to wanting her. Then to kissing her. And within the freedom of his impulsivity, both of their carefully planned lives begin to fall apart...
Buy on Amazon
My Review:
I got his book from netgalley for an honest review.
And you know what? At this point I'm not even sure if I like the book for the story or because it's about books. I have a problem. I need bookoholics anon.
That said, any passionate reader can agree that bookstores tend to be magical. So a twist of fate that leads a stressed out college girl to a bookstore that changes her life? Not only totally possible, but definitely my kind of book!
Typically love triangles are overdone, but I enjoyed reading a girl-girl-boy triangle for a change. The romance itself felt perfectly paced, and didn't at all take away from the reader feeling excited for Hannah as she discovered new books. The books were the best part. I didn't care too much for the kissing (I mean, I never do. I knew this was a romance but the promise of talking about books was just too strong a pull) but it was nice watching the romance unfold because it reminded me of when I met my husband.
I couldn't put this book down. I tried. But I was so invested in the story I wrapped my phone in a ziploc bag and took a bath while reading it. For the love of all things shiny, the title had "book" in it's name. I'm obsessed. AND AND AND Ben talked about all the books I've read and some books I really just want to run out and buy because I haven't read them yet.
Switching points of view can be tricky, but the transitions were seamless and never left me feeling confused. The side characters were reasonably well developed, and this book had me so giddy I was up at three in the morning gushing to my husband about "this girl and she's never read anything but now she is and I'm just so excited for her, oh my lord she is so happy I love it!"
I'm putting in four stars not because I didn't absolutely love it with every fiber of my being, but because: romances. I felt like there was too much attention on kissing and could have been spaced out more. BUT take that with a grain of salt, because it's not like a mushy, ridiculous, waste of time romance. It just wouldn't end up on my shelf at home. Definitely give it a shot.