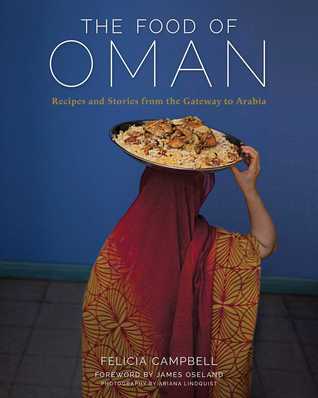 Featuring rustic Middle Eastern dishes infused with the flavors of East Africa, India, and Persia, "The Food of Oman "presents the delicious diversity of the tiny Arabian Sultanate through 100 recipes, lush photography, and stories from the people behind the food in an immersive introduction to a fascinating, little-known corner of the world.
The recipes in "The Food of Oman" offer cooks a new world of flavors, techniques, and inspiration, while the lush photography and fascinating stories provide an introduction to the culture of a people whose adventurous palates and deep love of feeding and being fed gave rise to this unparalleled cuisine
Expected publication: 10/13/2015
Campell's website
Buy on Amazon
My true passion is people. The conflicts and comforts of the table can transcend or exaggerate cultural differences and it's these connections and chasms that fascinate me as much as what's on the plate.
My cookbook includes history, art, and stories from the people behind the complex dishes of Oman and much of my memoir focuses on the absence of food rather than the pleasures of the table.
That said, a shared meal and a steaming cup of tea were my first point of connection with people different from myself, so I instinctually continue to approach the world food-first as I seek out authentic, human connections from Beirut to Hong Kong to Mexico City. The Middle East remains the place where I feel these connections most potently and the stories, perspectives, and voices of the people there are still the ones I enjoy sharing most.
Beyond writing about my own experiences, as an editor, I love cultivating new voices and helping writers tell their stories better. I'm especially excited by the challenges and rewards of working in a multinational setting and promoting diversity in the publishing industry.
My Review:
Unlike a lot of reviewers I see, I haven't actually been to Oman. My roots lie in Bangladesh and truthfully, I've not even been there yet. But I love the culture and I love cooking. So I requested a copy from the publisher via NetGalley in exchange for an honest review. The forward, written by a colleague, gave us a view of Campell as a friend, and then her introduction gave us a view of her as a person, along with Oman's history and facts that add gravitas to the meaning of the recipes ahead. After all, if you know how recipes came to be, they somehow come out greater than just blindly throwing things together. Being already familiar with the spices used thanks to many Sunday cooking sessions with my dad, I didn't need to be in front of the dishes for my mouth to start watering. Campell includes recipes for all sorts of palates-- fish lovers, meat lovers, vegans*, Vegetarians, and these recipes, by nature, are all low fat or can be slightly tweaked to be low fat. Throughout the recipes, Campell includes pictures and passages of Omani culture.
Overall: Would I buy this for my shelves at home? In a heartbeat. Would I buy it for a friend? Definitely.
*many recipes call for ghee, which can be animal-based fat. This can be substituted by coconut oil.
My rating: 5/5