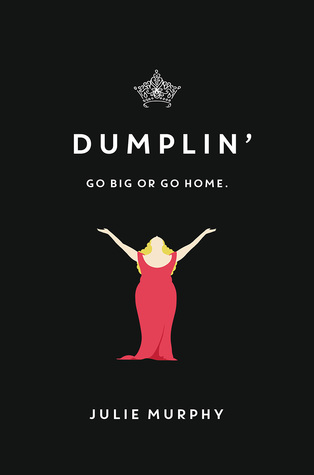 Self-proclaimed fat girl Willowdean Dickson (dubbed "Dumplin'" by her former beauty queen mom) has always been at home in her own skin. Her thoughts on having the ultimate bikini body? Put a bikini on your body. With her all-American beauty best friend, Ellen, by her side, things have always worked…until Will takes a job at Harpy's, the local fast-food joint. There she meets Private School Bo, a hot former jock. Will isn't surprised to find herself attracted to Bo. But she is surprised when he seems to like her back.
Instead of finding new heights of self-assurance in her relationship with Bo, Will starts to doubt herself. So she sets out to take back her confidence by doing the most horrifying thing she can imagine: entering the Miss Clover City beauty pageant—along with several other unlikely candidates—to show the world that she deserves to be up there as much as any twiggy girl does. Along the way, she'll shock the hell out of Clover City—and maybe herself most of all.
With starry Texas nights, red candy suckers, Dolly Parton songs, and a wildly unforgettable heroine—Dumplin' is guaranteed to steal your heart.
My Review:
What a disappointment. When I read all of the wonderful reviews about this book and the amazing character development it had, I had to wonder if it was for real or if it was all part of a tumblr-esque trend to over-inflate the abilities of the underdog (whether that be well-endowed people or minorities) all in the name of equality and social justice. Turns out, it was the latter.
First of all, Dolly Parton. I feel like the author reached into a hat filled with slips related to "character traits" and pulled out "character loves Dolly Parton." It felt forced and only made an appearance when it was convenient.
Second, let's talk boyfriends. Love triangles are hardly a rarity in YA books, but the one in this book felt mediocre. Like the two contestants in Willowdean's love life were actually both subpar. I didn't get any kind of passion or soulmate vibe from either of them, and therefore the extensive amount of pages devoted to the floppy love triangle were boring and hard to get through.
Third, friendships. Willowdean's breakup and Makeup with Ellen felt natural enough, but her friendships with the three "other fat girls" felt forced and fake.
On to Character Development. I don't feel like Willow had any real significant development in this novel. It felt like a trying-to-hard slice-of-life sort of piece. Granted I've never been 200 pounds, but I've spent a good fraction of my life scared to death of it. Maybe I'm projecting. Maybe this book tried too hard to play the fat-girl angle and failed to show any real talent at storytelling.
For all those who are disappointed in this review because you aren't sure about getting this book, don't be. It could honestly be worse. It could have been a 100-word DNF review. If you are a social justice tumblrite or a bigger woman trying to find a source of inspiration to Be Great, give this book a try. It wasn't exactly horrible. Just certainly not my cup of tea.
I received this book from the publisher in exchange for an honest review.