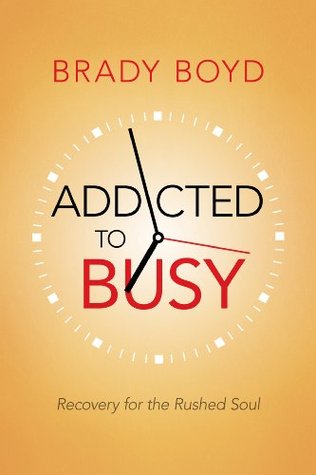 Are you busier than you want to be?
Than you need to be?
Than you are meant to be?
It's time to break busy.
We are all spread too thin, taking on more than we can handle, trying to do so much—almost as if we are afraid that if we were to take a moment of rest, we might discover that all our busyness is covering up an essential lack in our lives.
But God never meant for us to be so busy. God desires for us peace. God desires rest.
Brady Boyd shows you how to live a life that embraces stillness and solitude and finds the peace that God wants for you.
I've been working on catching up on NetGalley, at least the books I still have that weren't lost forever due to not downloading them on time.
It took me a while to get to this book. I was, ironically, too busy. But the author's voice was easy to follow, and interesting enough to want to keep following. I enjoyed the "breaking busy" challenges at the end of each
chapter
, but I think thats more of a testament to my character than anything else. I like being able to interact with my books and I LOVE challenges.
While sometimes I felt like if I ever met Brady I may not get along with him, I greatly admired his ability to be 100% honest with himself. And honestly, that's the only way anyone will get to start recovering from anything.
As my office goes into overtime season for the holidays, I might think of this book. But I might also push the thought aside. Either way I'll keep this book in mind for when I get older and ready to slow down. I'd recommend this book to everyone except most people in my generation will take the advice and ignore it like I probably will. But everyone maybe 30 years or older, or working parents who may be too busy for their kids sometimes should definitely give this book a go.