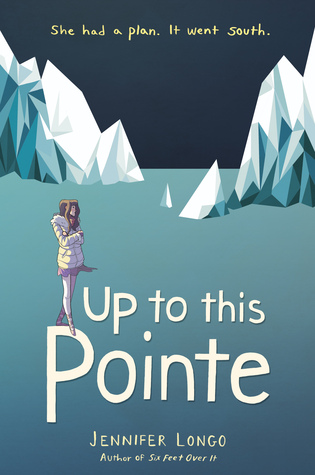 She had a plan. It went south.
Harper is a dancer. She and her best friend, Kate, have one goal: becoming professional ballerinas. And Harper won't let anything—or anyone—get in the way of The Plan, not even the boy she and Kate are both drawn to.
Harper is a Scott. She's related to Robert Falcon Scott, the explorer who died racing to the South Pole. So when Harper's life takes an unexpected turn, she finagles (read: lies) her way to the icy dark of McMurdo Station . . . in Antarctica. Extreme, but somehow fitting—apparently she has always been in the dark, dancing on ice this whole time. And no one warned her. Not her family, not her best friend, not even the boy who has somehow found a way into her heart.
Buy on Amazon | See on Goodreads
My Review:
I really like novels about ballet. Well--novels, documentaries, movies...I did attempt the dance once but I'm not nearly dedicated enough. I choose instead to live vicariously through fictional characters. (don't we all?) Now those of you who follow my reviews know I also am a sucker for eating disorder stories because I have experiences that make me relate so well to them. While Harper's eating (or lack of) is not the sole focus point of the book, I admire the way Longo wrote it in so you could see that this is just Ballerina-Normal. This is Harper-Normal. This is what a Scott does. I loved it.
Antarctica. I don't know anyone in Antarctica, but I do know someone who recently moved from Texas to Alaska, which must feel like the same thing at first. I really loved this unique setting and the fact that yes, Harper ran here probably so she could sort out her problems without anyone following her, but also because she's stuck there until spring. If things get too real she can't just run back. She has to work through things and it'll make her grow up a little more but that's okay.
Relationships: Harper and Luke make adorable siblings. Harper and Simone are really great characters together without making the teacher-student relationship too unbelievable. I don't ship Harper and Owen at all. I also don't ship Harper and Aiden. But they were all very well written.
As far as buyability: Yes. This book was very well written. Might be right on the cusp of YA/NA, so get it as a gift for an older teen. And definitely splurge on the print version.
I got this book from NetGalley in exchange for an honest review.