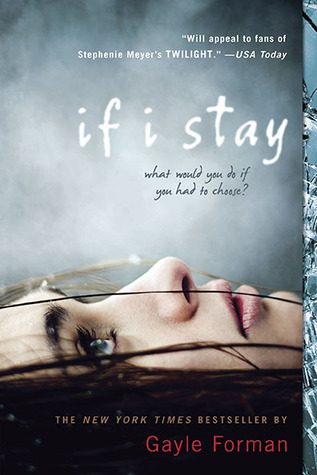 The critically acclaimed, bestselling novel from Gayle Forman, author of Where She Went, Just One Day, and Just One Year.
Soon to be a major motion picture, starring Chloe Moretz!
In the blink of an eye everything changes. Seventeen year-old Mia has no memory of the accident; she can only recall what happened afterwards, watching her own damaged body being taken from the wreck. Little by little she struggles to put together the pieces- to figure out what she has lost, what she has left, and the very difficult choice she must make. Heartwrenchingly beautiful, this will change the way you look at life, love, and family. Now a major motion picture starring Chloe Grace Moretz, Mia's story will stay with you for a long, long time.
Buy on Amazon | View on Goodreads
My Review:
I got this book from a thriftbooks Haul.
I appreciate that this book was written for a younger audience. That said, while I was reading the book I heard that the movie is so emotional and I really didn't see it until the last three pages. The characterization of Mia was great, but even with flashbacks I don't feel like I got a good glimpse of who they really were. I'll still be getting the sequel because if the engaging plot and good writing style, but overall I'm leaving it at 4 stars because I didn't connect with Mia's family despite the apparent love and attachment she had to them.
But the MOVIE. Oh, the movie. Obviously there are some things that can be done easier with a movie like background music and special effects. But I think what really made the movie so great was the timing of the flashbacks. They were reordered and slightly more sporadic, but it resulted in a fantastic emotional effect. The only thing that I didn't like was the ending. I liked the book's movie soooo much better.